A teenage son wants to follow his a legendary storm-tracker dad's footsteps – with the late lamented Anne Heche sparky in one of her final roles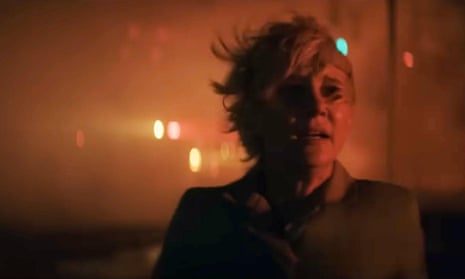 Tornado seekers … Anne Heche in Supercell. Photograph: Everett Collection Inc/Alamy
Every generation needs its own VFX-heavy action thriller about storm-chasing meteorology nerds and there hasn't really been one since Twister in 1996. (Admittedly, Into the Storm arrived back in 2014, but no one remembers that.) A supercell, by the way, is a mega-huge tornado-thunderstorm weather event that the Brody family – dad Bill (Richard Gunn), his wife Quinn (Anne Heche, in what was sadly to be one of her last roles) and Bill's brother Roy (Skeet Ulrich) – gets frightfully excited about. Bill and Roy chase storms like this all over Texas and Oklahoma in a gas-guzzling truck while Quinn stays home monitoring satellite feeds and screaming into a shortwave radio when she's not looking after her and Bill's son William.
Of course, like Icarus but with cowboy boots, Bill gets too close to the killing end of a storm and dies. Quinn is so bereaved that, despite Roy describing her as one of the smartest people he's ever known, she takes up cleaning houses for a living, as if this is the most humiliating line of work anyone could ever be in. William grows up to be a strapping lad played by Daniel Diemer who worships the memory of his father. When Roy sends Bill's old journal as a keepsake to William, he runs off to meet up with his uncle and rejoin the business, which has since been bought by greedy, reckless capitalist Zane (Alec Baldwin), who now uses the truck and equipment to run storm tours for tourists. The kid unsurprisingly proves to be a natural at storm-tracking. But wait, what's that dark cloud-formation on the horizon? Could it be … a supercell???
Predictable as this film is, there's some primal pleasure to be had from the scenes where the characters watch lightning and hefty wafts of water vapour from a distance, all very convincingly animated. The thriller-y bits are duly exciting, and there's something almost endearing about a film that makes no attempt to find comedy or supernatural elements or airborne sharks within these dangerous-enough natural conditions. It's also a genuine treat to spend time with Heche, a consistently underrated actor who brings crackle, sparks and quirky touches to her should-be standard-issue worried mom role. She will be missed.
---